In this blog post, Dr Brett Lodding will explain how to consider exercise when you have low back pain.
The most important tip when considering exercise for you low back is: to listen to your body.
Pain is your body's best gauge on whether you are doing too much or not. You just have to learn to listen to it.
One of the biggest problem with taking panadol and anti-inflammatories if you experience chronic low back pain, is that they hide your bodies warning signals. Pain is our body's way of trying to protect us from causing more damage. If we cover up the pain with drugs, we may try to attempt activities that are actually going to make us worse but our body won't be able to warn us of that fact.
Having said that, one of the worst things you can do for back pain is to do nothing. Studies have shown that bedrest may actually make back pain worse (1).
Movement and exercise can help muscles to relax and increase blood flow to the area. But you have to start exercising within your pain tolerance. Ideally, you should start small and increase slowly.
You can start with easy movements like walking. Start with an easy 2 to 3 minute walk and then add 30 seconds each day until you are walking comfortably for half an hour. Remember to listen to your body and exercise within your limits.
Another option is to try water-based exercise such as water aerobics or even just walking in a hydro pool. The water allows you to exercise in a non-weight-bearing environment which helps to lessen the stress on your low back.
As you start to move better and with less pain, you can start to try the Low Back Flexibility and Low Back Strengthen Exercises that are on our website.
Ask your Chiropractor which are the right ones for you to begin with and when.
Whatever you choose to do, remember to listen to your body because it will tell you when you're doing too much.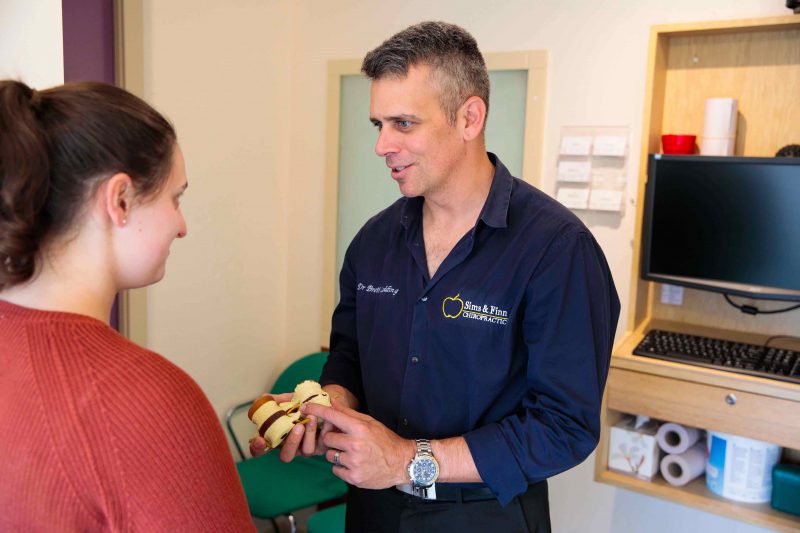 ---
Are you are tired of living with back pain and discomfort?
Our chiropractors utilise Neuro-structural correction which may help address your concerns.
We focus on finding and correcting the cause of your symptoms.
Along the way, our chiropractors will equip you with the knowledge and tools to be able to create habits that strengthen your spine.
---
Our website contains a lot more information about spinal conditions and exercises you can do at home to help yourself. If you have any questions or would like to find out if chiropractic care may help you, please don't hesitate to contact us.
---
To make an appointment, please either book online via our website, or call our friendly staff.
Sims & Finn Chiropractic
52 Stud Road, Dandenong 3175
@simsfinnchiropractic
---
Parry, S. M., & Puthucheary, Z. A. (2015). The impact of extended bed rest on the musculoskeletal system in the critical care environment. Extreme physiology & medicine, 4, 16. https://doi.org/10.1186/s13728-015-0036-7